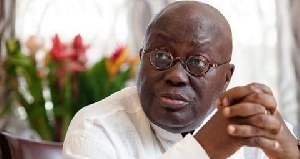 Wed, 24 Jan 2018 Source: The New Independent Newspaper
An investigative Journalist with The New Independent Newspaper, Kofi Adzivor, has received commendation from several quarters of society, particularly from the Volta Regional Minister, Dr. Archibald Yao Letsa, for going miles in a bid to ensure that, policies and programmes of government succeed.
Kofi Adzivor sent to the Volta Regional Command of Police, an undisclosed amount of money that was used to bribe him to prevent a news story from going public.

This followed reports suggesting the headmistress of Hoviefe Junior High School, Precious Adadey, had collected monies from parents, whose wards are in the final year in her school, to cover payments of registration for their Basic Education Certificate Examination (BECE), contrary to government's directive that, it was going to absorb payments of those charges on behalf of the wards.

The recalcitrant headmistress has allegedly refused to refund monies collected for the purpose from unsuspecting parents even after persistent persuasion by some parents to refund their monies back to them.

During a visit to the school by the investigative journalist with The New Independent, accompanied by his close associates, the said headmistress after admitting to collecting GHC100 from each parent, attempted to maneuver her way by preventing the news from going out into the public domain, and in the process, offered bribe to the journalist, who in turn sent the money to the police and has since lodged an official complaint against the said headmistress.

The police in the Volta Region have since began investigations into the complaint and statements have been taken from all those involved.
Dr. Archibald Yao Letsa is of the view that, people who are appointed to occupy public offices must be seen to be protecting government policies.

According to him, His Excellency Nana Addo Dankwa Akufo Addo's administration "will be the last to countenance such characters whose stock in trade is to sabotage government policies," he told The New Independent in a telephone conversation yesterday.

He has, therefore, charged the police to conduct proper investigations into the matter and to come out with a credible report.

In November 2017, government through a directive said, it would absorb the registration fees of 2018 Basic Education Certificate Examination (BECE) candidates in public junior high schools across the country.

That announcement of policy directive marked the Akufo-Addo government's latest intervention in public education after the implementation of the Free Senior High School policy, which started with the 2017/2018 academic year for SHS entrants.
Many parents received the news with joy, especially parents in deprived communities across the country, however, there have been attempts by some individuals to sabotage these rather pragmatic policies.

It is against this background that, Dr. Achibald Yao Letsa warned that, people who are caught engaged in acts of sabotage would be dealt with according to the law.

Kofi Adzivor has been saying that, "it was important that, media practitioners supported programmes that were geared towards the development of the general public, especially the poor in society."

According to him, the media must continue to expose wrongdoings in society by exposing corruption.

He also commended His Excellency Nana Akufo-Addo, for appointing 'citizen vigilante' Martin Amidu as Ghana's Special Prosecutor to occupy the newly created office and adds that, "if monies that are meant to be used for development are protected, Ghana no doubt, will experience the development we all seek to achieve."
Source: The New Independent Newspaper