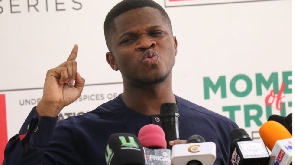 The National Communications Officer of the National Democratic Congress (NDC), Sammy Gyamfi, has labeled the Jubilee House, which is the seat of government in Ghana, a "crime scene."
According to Gyamfi, the complex has become a place for illegal small-scale mining (galamsey) activities in the country, and that the galamsey report by Professor Kwabena Frimpong-Boateng is proof of his claim.

"Professor Frimpong-Boateng is not an ordinary person talking but this was the man who was in charge of the fight and he has not just written a report and kept under his bed but submitted it to the presidency and indicated that he is ready to substantiate those allegations.

"In fact, in some of the instances, he has even given us evidences including videos, pictures and messages and so we must get to the bottom of these issues.

"Then he talks about the former NPP MP for Manso Nkwanta who under the guise of community mining also acquired a lot of concessions. So you see, the Jubilee House today is a crime scene," he stated on Metro TV's Good Morning Ghana show on Thursday, April 27, 2023.

He criticized President Akufo-Addo for not taking any action on the report submitted by Professor Frimpong-Boateng, who was in charge of the fight against galamsey in the first term of Akufo-Addo's government.

Gyamfi emphasized that Frimpong-Boateng is a reputable individual and had submitted evidence to substantiate his allegations against some appointees in the Jubilee House.
Professor Frimpong-Boateng, who was the former Chairman of the Inter-Ministerial Committee on Illegal Mining, accused some individuals in government of frustrating his efforts to fight illegal mining activities when he was a minister.

He submitted a document that contained the names of people he claimed were interfering with the committee's work. In the document, he mentioned that party officials had engaged in illegal mining activities and that there were appointees in the Jubilee House supporting the menace.

Some individuals mentioned in the report, including President Akufo-Addo's cousin Gabby Asare Otchere-Darko, have denied the allegations. Otchere-Darko explained that he only called Frimpong-Boateng to seek information on his client, a company that had permits to mine in the country.

He added that the Minister deliberately twisted his mediation to cause public disaffection for him.

Meanwhile, watch the latest episode of People and Places on GhanaWeb TV below:




Watch the latest episode of The Lowdown below:






GA/SARA