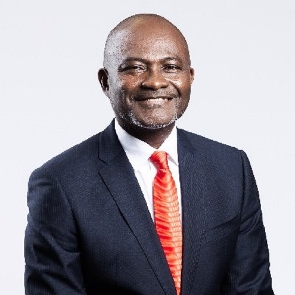 Assin Central Member of Parliament Kennedy Agyapong has expressed strong optimism about winning the presidential primary in the New Patriotic Party (NPP).
The aspirant candidate made the declaration when he picked up nomination forms to contest in the presidential primary today, Thursday, June 1, 2023.

The forms were picked on his behalf by his campaign team.

His campaign manager Kwame Owusu speaking to the media said "We believe in the grassroots. The people are excited about what honorable Ken stands for. Honourable Ken does not stand for indiscipline. Honorable is honest in terms of his dealing with the country. Honourable Ken is patriotic that he will die for Ghana, and he has demonstrated that.
So most of the time if you hear him talking loud or making a case, it is what people will come in and say that he is not conforming. Of course, he is not conforming because he stands for the ordinary people and ordinary people are not conformists," he said.

"People want somebody who is disciplined because there is too much indiscipline in this country. Indiscipline leads to corruption and once you see a man that you believe is honest, and you are going to work for him, it has to be at the back of your mind that whatever you do you are going to face the whip very squarely," he added.