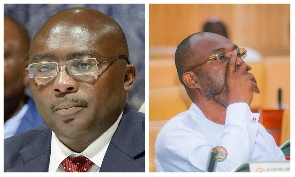 A political analyst, Frank Keasi Nkansah, says if the New Patriotic Party (NPP) delegates do not demand items or money, Kennedy Agyapong would be the best candidate to represent them in 2024.
According to Frank Kwasi Nkansah, the presidential primary would be between Vice President Dr. Mahamudu Bawumia and Assin Central MP Kennedy Agyapong.

He argued that the NPP's other surviving contenders have no chance of winning the 2018 presidential election.

The nomination period for the New Patriotic Party's flagbearers has officially ended.

Ten people picked up nomination forms to run in the primary.

According to the analyst, who is also a reverend priest, the race would be between the Vice President and the Assin North MP.
He said Kennedy Agyapong is the best bet for the NPP and the country at large because Ghana, as it stands now, needs a disciplined president and action-oriented leader who can issue developmental orders and command his people for efficient governance.

He emphasised that Bawumia may sail through the fight if the delegates have a strong interest in money rather than choosing the best man for the job, because Bawumia, as Vice President, may have the necessary funds to distribute to the delegates for vote buying.

In his view providing the mandate to Bawumia, who has been a prominent member of the Akufo-Addo administration for nearly eight years, will not contribute to Ghana's progress, but will instead expose Ghanaians to the manifestations of poor governance by the Akufo-Addo-led NPP government.

"We require someone to maintain discipline and lead the NPP to victory." The NPP also requires someone capable of competing with former President John Dramani Mahama.

"Several Ghanaians have urged for Kennedy Agyapong to be elected President. They believe that if he is elected, he will uphold discipline at all levels. He will not accept mismanagement or corruption.
"We need someone who is action-oriented at this level. Alan isn't even in the race. Should the NPP delegates vote with their conscience, and in actuality, Kennedy Agyapong is the finest choice for them, they may settle for the Vice President because of the television, fridge, and money they require. The Vice President can acquire more votes than Kennedy, thus he may win the contest."

You can also watch this episode of People & Places here: