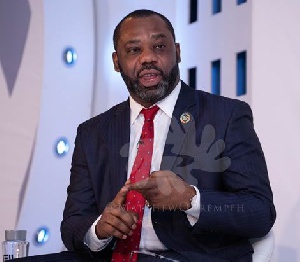 Former Deputy Ashanti Regional Minister, Joseph Yammin has stated categorically that challenges confronting the free Senior High School (SHS) policy are deliberate attempts by Finance Minister Ken Ofori Atta and President Nana Addo Dankwa Akufo-Addo to frustrate Education Minister, Dr. Mathew Opoku Prempeh's ambition of becoming a presidential candidate of the New Patriotic Party (NPP).
President Akufo-Addo in 2017 launched the Free SHS policy as part of his campaign promises to ensure accessible, equitable and quality and life-changing education for every Ghanaian child.

Some Civil society groups and educationists have questioned government's commitment in the implementation of free SHS urging it to resolve the teething challenges affecting the quality of education under the policy.

Joseph Yammin in an interview with MyNewsGh.com Ashanti Regional Correspondent, disclosed that headmasters in various Senior High Schools have been warned to keep silent and suffer insisting that they are finding it difficult to run schools under the Free SHS policy.
According to Joseph Yammin, government has failed to address the bottlenecks of the Free SHS policy just to make Education Minister incompetent and failure.

"I pity Education Minister Mathew Opoku Prempeh. Finance Minister and President Akufo-Addo have failed to release money for the running of the policy because they know that Mathew Opoku Prempeh has a presidential ambition. They want him to be failure so that Ghanaians will tag him as incompetent. Finance Minister Ken Ofori Atta also has presidential ambition so he is competing with Mathew Opoku Prempeh. Government is killing quality education with the implementation of free SHS policy due to one person's selfish interest" he said.