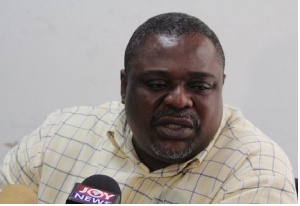 Deputy General Secretary of the National Democratic Congress (NDC) Koku Anyidoho Tuesday morning expressed disagreement with the Ankobeahene of Aseseeso-Akuapem, Nana Abedi Lartey I, over his description of Dr Mahamudu Bawumia as Mutum banza.
Mutum banza is a Hausa term which means useless or good for nothing.

According to reports, the former presidential spokesperson referred to the former Deputy Governor of the country's Central Bank as Mutum banza during the Ashanti Region campaign launch of the NDC over the weekend.

But speaking on Onua FM's Yensempa on Tuesday, Nana Abedi I said Mr Anyidoho's language was not deserving of him.

He advised the politician to be wary of his statements about leading and senior politicians.
In reaction to the chief's admonition, Mr Anyidoho said his description of Dr Bawumia was no different from the New Patriotic Party Vice Presidential Candidate's description of President John Dramani Mahama as "incompetent".

The back-and-forth on air apparently ended up in the dropping of the NDC deputy secretary's phone line.

Nana Abedi I, consequently, admonished young politicians to be wary of their pronouncements against senior colleagues, saying respect for elders guarantees long life as found in the Holy Bible.

He cautioned Mr Anyidoho not to think his party will be in power forever as the coin will turn one day.