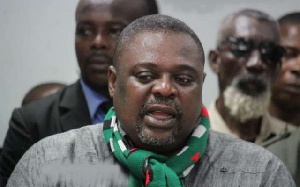 The Deputy General Secretary of the National Democratic Congress (NDC), Koku Anyidoho has revealed what he describes as the shadow cabinet of the New Patriotic Party (NPP) Nana Addo Dankwah Akufo-Addo.
According to him, Member of Parliament (MP) for Abuakwa South Samuel Atta Akyea has been penciled as the Independent Prosecutor, Gabby Asare Otchere-Darko as Chief of Staff, Nana Asante Bediatio as Attorney and Ursula Owusu as a de facto First Lady among others.

He claims the names of prominent Asantes within the NPP are conspicuously missing in the list while preference is given to Akyems who constitute the' mafia' around the presidential nominee.

"I am telling you that his cabinet is already out. Ursula Owusu is his De facto First Lady, Gabby Otchere-Darko for Chief of Staff, Bediatio as Attorney General and Atta Akyea as Special Prosecutor. There is no Asante in the list but only those small, small Akyem boys", he added.

Mr Anyidoho on Abusua Nkomo hosted by Kwame Adinkra, warned that disaster awaits the country should Nana Addo be mandated to manage the affairs of the country judging from some of the things he has already started unveiling which are considered a prelude to his governance style.
While admitting the Ashanti region remains the stronghold of the NPP in view of the voting pattern of residents, he admonished them to be mindful of the candidate they are pushing to lead the country describing him as not credible and worthy for the course.

"I am passionately begging the people of the Ashanti region to reject Nana Addo and his lies because he has nothing better to offer them. Don't go and vote for someone to unseat John Mahama and regret your action the following day", he urged.

The Deputy General Secretary appealed to residents of the Ashanti region to mandate the second term bid of the president for the continuity of the various developmental projects he started which could be stalled in the event of a change in government.

"This man NPP want Ghanaians to vote for, has consistently shown he can put aside the constitution of his party and have his own way. How sure are we he will not dispose of the country's constituency in the pursuit of his parochial interest. This man does not trust in the security agencies of the country and brought in mercenaries to train youth on how to pick up arms. There is no way we should allow him to destroy the country", he concluded.