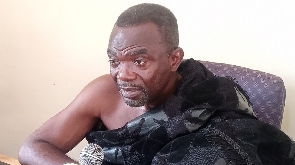 An independent candidate in the recently held parliamentary by-election in the Kumawu Constituency, Kwaku Duah, has accused the ruling New Patriotic Party (NPP) of attempting to bribe him into pulling out of the race.
According to Kwaku Duah, he was called into a meeting with a high-powered delegation in attendance, where a substantial offer was made to him in exchange for his withdrawal from the race.

"People came to me and said, 'Kwaku, we are all one people, so withdraw for Anim (NPP candidate) to proceed. We know we were not fair to you in 2020, but we are willing to make it up to you. We will reimburse all the money you have spent,'" he told Otec FM in an interview ahead of the May 23, 2023, by-election.

Mr. Duah revealed that he turned down the offer from his former party, citing his commitment to standing with his constituents and their interests.

"For the love of my people, I said no. When you are summoned before power and you see all the influential leaders gathered around, it really tests your character, lest you buckle. But I stood my ground. I questioned myself, 'Whom do I stand with? The party or my people?' My ancestors have appeared to me in a dream, and this is not something I am doing for amusement. I know it is my responsibility to stand for my people. So I said yes, I am with my people," he said.

Following the by-election on May 23, 2023, the NPP's Ernest Anim secured 15,264 votes, defeating the National Democratic Congress (NDC) candidate, Kwesi Amankwah, and two independent candidates, both named Kweku Duah.
The NDC's Kwesi Amankwah garnered 3,723 votes, while Kwaku Duah (1) received 2,478 votes, with the other Kwaku Duah managing only 62 votes.

The senior Kwaku Duah had left the NPP in 2020 as a disgruntled member to contest against the party's candidate in the parliamentary election.

The late Philip Basoah won the 2020 race for the NPP but passed away in March this year, leading to the by-election.


You can also watch the latest episode of People & Places:





Meanwhile, watch the latest episode of SayItLoud on GhanaWeb TV below:




GA/SARA