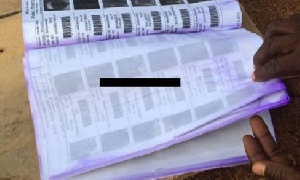 The names of some 200 members of the opposition New Patriotic Party (NPP) in the Berekum East constituency of the Brong Ahafo Region have found their way in the National Democratic Congress' (NDC) voters register.
This huge number of names was discovered after detailed scrutiny of the electoral album in only 10 polling stations so far.

The NDC suspects that the NPP were behind the anomaly. They claim the latter had strategized that if the identities of the opposition members had not been noticed on the register, they would have ended up voting for a weaker NDC candidate to become the parliamentary candidate for the area and eventually lose to an NPP candidate.

A popular NPP member and Regional Communications Team member, Richard Kyere Boateng, who confirmed his name being on the NDC voters register in an interview with Kasapa News expressed surprise how that was possible.

He threatened to sue anyone found to have been behind the attempt to tarnish his reputation.
Constituency Secretary, Gilbert Ankrah in an interview with Kasapa News was astounded as to how the flaw was allowed to happen. He chided the Branch executives for not being efficient in the discharge of their duties.

"The branch executives are supposed to know their members and so I'm surprised how a known NPP member including the regional communications team member could have his name on an NDC voters register. This should certainly not be entertained. I have initiated an investigation into the whole saga and will make a report available to the regional office soon," Mr Ankrah noted.

The voters register is currently being exhibited ahead of the NDC's primaries scheduled for November 21.