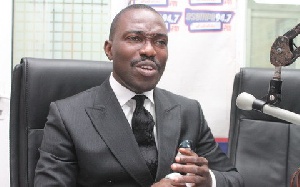 Sun, 18 Oct 2015 Source: peacefmonline
Private Legal Practitioner, Lawyer Kwame Akuffo has asked a learned fellow, John Ndebugri to revise his understanding of the constitution after accusing former Presidents – John Jerry Rawlings and John Agyekum Kufour of acting "unconstitutionally" in calling for a new voters' register.
According to him, the proficient lawyer's comment was "unfortunate" – "It was a slip of the tongue, he should be forgiven. He has not read the entire Constitution."

Private Legal Practitioner, John Ndebugri blamed Pressure group, Let My Vote Count Alliance [LMVCA] for drawing onto their side in their demand for a new voters register.

He quizzed whether the pressure group has invalidated the current album by all means, when the EC is set to take the matter on-board procedurally, pointing out that the attempt to stampede the EC into taking a decision that will favour them is unlawful.

"This business of going to former Presidents is meant to invite them to act unconstitutionally...Are they saying that you can just go to a former President to decree that Article 46 should be set aside," he asked in an interview with Accra-based Citi FM.
But speaking on NEAT FM's morning show dubbed 'Ghana Montie', Lawyer Kwame Akuffo explained that Ex-President Rawlings and Kufour's call for the new register is not to – "Undermine EC's performance of its constitutional function."

"With all due respect, he [John Ndebugri] took the position without reading the entire constitution. You can't depend on just one line of the Constitution to buttress your claims. Every creation under the constitution is subject to the constitution," he added.

According to Lawyer Kwame Akuffo, his learned fellow's stance is akin to preventing the youth from seeking advice from statesmen – "So now you can't visit a statesman for an advice? That is very serious. Freedom of association is a problem for him? He (Ndebugri) erred."
Source: peacefmonline