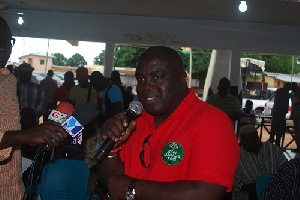 The Chief of Staff, Julius Debrah has appealed to Zongo Chiefs in Koforidua in the Eastern region to renew the mandate of President Mahama in the December polls.
According to him, it will be unfair to make President Mahama a one term President when all others before him tasted the eight years in office.

He argued on the numerous developmental projects under President Mahama's government in just one term in office.

"From the North to South, almost all the presidents who have governed this country were given eight years to serve. President Rawlings to Kufuor they were all given eight years. As for President John Mills we all recall what happened to him. So if possible let's give the President another term in office so it makes eight years. In that regard at the end of his tenure we can conclude whether he did well or not," Mr. Debrah said while interacting with zongo chiefs in Koforidua.
Meanwhile the Fulani chief in the enclave, Nuhuta Saliki Fulani assured that they will vote to retain Mahama based on his achievements.

"God does not make leaders based on their religion. He makes leaders irrespective of their religious background. Take Senegal for instance, the country is dominated by Muslims and Christians just make up 2%, but they still voted for someone with a christian background. so it does not matter where you belong, all I'm saying is that Mahama has done a lot for this country and we have vote for him again irrespective of his religious belief."