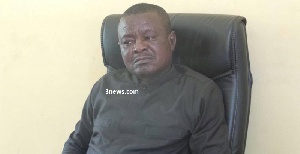 Headmaster of the Mim Senior High School in the Brong Ahafo Region is cautioning government to be cautious in placing basic school graduates with 'weak grades' under its free Senior High School education policy.
According to Mr. Gabriel Fosu, some of the students who are currently enjoying the free SHS in the various schools across the country have between aggregate 40 and 52; a situation he observed does not augur well for the schools.

"These weak students were all posted here and since we don't have a say in who is posted here we cannot also turn them away; some had weak grades of [aggregate] 52," he told members Public Interest and Accountability Committee (PIAC).

Members of PIAC and some selected journalists from the Institute of the Financial and Economic Journalists visited the school to ascertain the impact of the Free SHS on the school.

PIAC is focusing on the Free SHS because the government is spending one-third of the total oil revenues to support the Free SHS.

Addressing the delegation, he said these weak students require additional contact hours to catch up with their colleagues but due the free SHS, school authorities are unable to charge any unapproved fees from parents for extra classes.

Mr. Fosu thus underscored the need for government to place a cap on BECE candidates who are to benefit from the free SHS policy, suggesting only BECE candidates with aggregate 30 and below should be made to benefit.
Meanwhile, the headmaster has commended government for the prompt release of 20 per cent of the grant for other expenses under the Free SHS such as purchase of perishables, SRC, staff motivation and maintenance.

He has recommended for early supply of consumables from the Buffer Stock Company so the schools don't spend money to buy consumables that are supposed to be released at the start of the term.

Mr. Fosus said there are some instances, supplies have come when the schools were about ending the term.

At Bechem Presec, Acting Headmaster, George Boateng said the Free SHS has not had impact on existing infrastructure.

He, however, said elective textbooks have delayed although all core textbooks have been supplied from the first year to the third year.

Chairman of PIAC, Dr Steve Manteaw told the heads their concerns will be captured in their report to the Presidency and the Finance Committee of Parliament