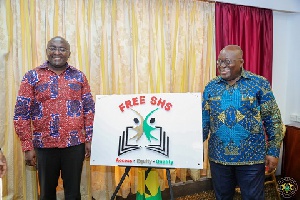 The Chief of Mamfe-Akuapem, also the Kyidomhene of Okuapeman, Osabarima Ansah Sasraku III, has appealed to Ghanaians, particularly traditional rulers to support the Free Senior High School Policy in order for it to be successful.
Some 400,000 first year students are currently benefiting from the policy, but the system has been afflicted with congestion challenges in classrooms and dormitories. Also, delays in the release of the second tranche of funds for the schools have affected their operations.

However, according to the Osabarimah, the Free SHS policy is a brilliant and laudable program which has liberalized education and given equal advantage to the poor to have access to Secondary education which he believes will help reduce poverty and therefore prays that the citizenry will unit behind the policy to help overcome the teething challenges that have characterized its implementation .

"My prayer is that all of us will support this Policy, any new policy that is rolled out will have its teething challenges, but then there is nothing that we cannot overcome as a people with the good mindset seeking to have the Policy succeed and it is our responsibility to ensure that happens because it is our children who are going to be the beneficiaries irrespective of whoever he /she is. And I will commend government.

"So I will urge everyone, especially traditional rulers to all support to ensure that whatever teething challenges that have come now are addressed and I believe in a couple of years time all those things will be things of the past," he noted.

The Mamfehene added that the Policy is a " brilliant idea, it is just heart warming to be living in these times. As a traditional ruler there are many occasions children have passed their BECE but because of some challenges they have been unable to continue. When it comes like that, the onus come to fall on us to make provisions and as much as possible support these vulnerable and unfortunate young boys and girls. So if a government introduces free Senior High School, it is hallelujah, it's a sweet song to my ears".
The Chief said this when MTN donated a cheque of Ghc10,000 and a drink hamper to Support 2017 Mamfe -Akuapem Ohum festival which also marks the 20th anniversary of his enstoolment.

He commended MTN for their relentless support in reviving diminishing Ghanaian tradition and culture which he believes is very critical to the identity of Ghanaians and imperative for national development

The Sales and Distribution Manager, for South & East Business District , David Woasey took the opportunity to caution its customers to be on alert against mobile money fraud expected to characterise the yuletide as some social deviants and criminals take advantage of numerous promotions ongoing during Christmas and New Year seasons to defraud customers of their money using mobile money service.

He added that " MTN will like to caution all to stay alert and not to share your mobile money information more importantly your mobile Money Pin Code. Please verify information from any MTN office if you are not certain of any transaction".

Mr.Woasey stated that MTN will continue to introduce smart security features to reduce mobile money fraud but customers also have a responsibility.