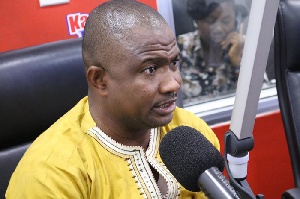 Solomon Nkansah, a national communications director for the National Democratic Congress (NDC), has taken a swipe at the running mate of Nana Addo Dankwa Akufo-Addo, Dr. Mahamudu Bawumia for describing President John Dramani Mahama, as an incompetent leader.
The outspoken politician further asked the former deputy governor of the Central Bank to look no further than within his party and his flagbearer if he wants someone who is incompetent.

He said, because the former foreign affairs minister is incompetent, Dr. Bawumia is doing all the work for him, adding that, ''Nana Addo is ignorant and incompetent and that is why, Dr. Bawumia is speaking for him. If Nana Addo is not incompetent and ignorant, Bawumia would not be doing his work for him.''

According to him, the late Mills was competent and was on spot with whatever he did and the current president, is also competent and has remained consistent with whatever he does. However, Nana Addo has left everything in the hands of his running mate because he cannot do it.
''If Bawumia is looking for incompetence, he should not look anywhere, he should look at his leader…And so you [Bawumia] have taken over from your incompetent Akufo Addo; that doesn't mean that you are equal to John Dramani Mahama…Paa Kwesi Amissah left an impeccable record at the Central Bank, keen among them was maintaining a single digit inflation for 4 years, and the stabilization of the cedi against the dollar but, what was the record of Bawumia as a deputy governor?

He redenominated the cedi which currently has created challenges for our currency.'' Solomon Nkansah made the remarks during the campaign launch of the parliamentary candidate for the NDC in the Ayensuano constituency, Mr. Yaw Addi.