Regional News Tue, 2 May 2017
Click for Market Deals →
President Akufo-Addo's nominee for the Cape Coast Metropolitan Assembly in the Central Region, Ernest Arthur, was Tuesday afternoon confirmed as the chief executive for the Assembly.
Mr Arthur who was the Cape Coast South Chairman of the New Patriotic Party, secured an overwhelming endorsement by the assembly members as he polled 60 out 61 the votes cast representing 98.36 per cent, with one ballot being rejected.

Prior to his confirmation, the assembly members elected Joel Eshun as their Presiding Member having failed at seven attempts. He stood unopposed.

A total of 58 members voted for his nomination while two voted against him, and three ballots declared rejected with three absenteeism.

District Court judge, Ms. Gloria Mensah-Bonsu administered the oath of office to both Mr Arthur and Eshun.

Let's unite to build
Mr Arthur expressed gratitude to the President and the New Patriotic Party as well as well as the chiefs of Cape Coast, and called for unity to build the metropolis.

"Once the selection process is over and having been duly elected, I wish to call on all and sundry to be united behind me as we build a new Cape Coast. To other applicants for this position, I pledge my commitment to work with you to bring Cape Coast to a deserving state," he urged.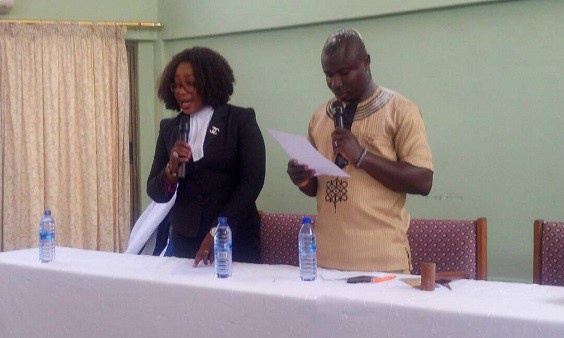 Joel Eshun was elected as Presiding Member

Source: http://3news.com/mce-for-cape-coast-confirmed-rallies-support-to-build-the-city/
He underscored the need to build on what his predecessors started and did in the last eight years, adding "At this point, ours is to take the lessons from the past and put them into good use as we seek to address the problems of our people"

Fallen standards of education, joblessness, poverty and poor sanitation are some of the key things they would focus on and appealed to citizens of Cape Coast both home and abroad, to come on board in build the town.

"To investors, Cape Coast is opened for investments and my office is going to do everything humanly possible to assist you to ensure that you succeed in Cape Coast. Central Regional minister Kwamina Duncan commended the assembly members for the endorsement of the President 's nominee.

He also urged the people of the assembly and Cape Coast metropolis to give unflinching support to the new chief executive to boost the lives of the people.
Send your news stories to and via WhatsApp on +233 55 2699 625.