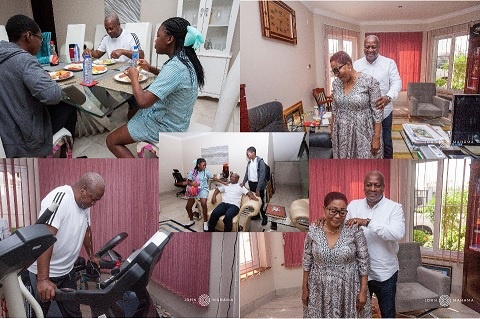 Former president John Dramani Mahama who celebrated his birthday today has described it as special and meaningful after he shared some photos of himself spending time with his family.
The former President, in a Facebook post, shared images of himself and two of his children, Farida and Jesse having breakfast.

He wrote, "Always a great pleasure and a rare privilege to make time for breakfast with Jesse and Farida. @59, though it certainly feels different, more meaningful and special!"

John Mahama who never fails to express his undying love for his wife shared another post showing himself and his wife Lordina having a good time and described those moments as the best moments of his 59th birthday celebration.

The couple renewed their vows July this year and have been seen in public a few times showing subtle signs of affections for each other.

After losing the 2016 elections to Nana Akufo-Addo, John Mahama showed Ghanaians a side of him that was barely seen during his tenure.
Pictures showing the former president having a good time with his daughter Farida, his wife Lordina and his sons makes everyone smile before realizing.

In a confession during a graduation lecture in Nigeria, Mahama said his daughter told him she was happy he lost the 2016 Presidential elections because she came back home from school to meet him at home, a site alien to her until his loss.



"I remember the day after I had handed over – this was the 8th of January – I woke up in the morning and remembered there was no Office to go to. So, I relaxed in my bed and turned on the TV, watching CNN. I spent the whole day watching TV at the time Donald Trump was the President-elect, and they were going through the transition, waiting to hand over; so, I just kept watching what was going on," he said.

"She leaves the house early in the morning to be able to get to school on time, by which time I probably had not gotten out of bed. She gets back home late afternoon and I am in the Office and I get back in the night when she is asleep. So, we could go the whole week without seeing each other. For the first time, she came back from school and there I was lying on my bed and watching television.
"She asked me, ''Daddy, didn't you go to the Office?'' I said ''No, don't you remember that I handed over to President Akufo-Addo yesterday.'' She said OK; so it means you are not going to the Office anymore? I said ''No, I have no Office to go to.'' And she said, ''then I am happy!'' She added, ''so will I be coming home from school and meeting you in the house? I said yes and she said, ''then I am very happy that you lost the elections!" he said.

John Mahama started his birthday celebrations at the gym encouraging Ghanaians in a tweet to stay healthy.

"29/11. Woke up to lots of messages of goodwill & wishes of good health on my birthday. Thanks to you all, my brothers & sisters, fellow Ghanaians. Spent the morning in the gym, working out to keep healthy. Remember to exercise to keep healthy. Ghana needs you alive," he wrote.

Mr. Mahama served as a Vice-President of the Republic from January 7, 2009, to July 24, 2012, when he took over after Late Professor Mills, then President passed.