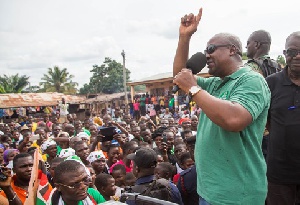 Sat, 8 Oct 2016 Source: GNA
President John Dramani Mahama on Friday announced that government is liaising with the Korean Export and Import (EXIM) Bank, to provide facilities for the Sunyani University for Energy and Natural Resources (UENR).
The Ho University for Health and Allied Sciences would also be covered.

He said the facility would be used in expanding infrastructural projects in various campuses of the two universities.

President Mahama announced this when he interacted with students of the Sunyani University for Energy and Natural Resources (UENR).as part of his four-day campaign of the Brong-Ahafo Region.

The President during the four days visited constituencies and addressed rallies, inaugurated two new community day senior high schools at New Longoro in the Kintampo North District and Krobo in the Techiman North District.

He said just as funding had over the years been sought for all other public universities in the country, government would continue to seek funding for the new universities to blossom.
President Mahama said he would also work with the university authorities to establish a chair, as an advisory body to government to know their challenges.

The President said the Korean EXIM Bank facility would also be spent on the establishment of a new campus at Dormaa-Ahenkro also in the Region.

Professor Harrison Kwame-Dapaah, Vice Chancellor of the University commended government for the development projects on campus.

He said although the University is currently facing some challenges, it is suare to overcome them with time and perform according to its core mandate.
Source: GNA