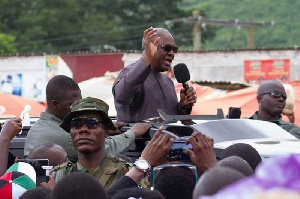 President John Mahama has arrived in the Northern region to begin his campaign tour of the region.
He is currently in Salaga where he is expected to address a rally later today. He will be in the region for four days.

Mr. Mahama arrives in his home region despite an ongoing protest by a coalition of opposition political parties in the area.

The protesters earlier clashed with a vigilante group believed to be aligned to the ruling party.

According to an eyewitness, the Azorka boys appeared from "nowhere" and entered the crowd of demonstrators around the 'Vodafone traffic light' in Tamale.
"The demonstrators have been on the streets since morning. But we don't know where the Azorka boys came from, all we saw was that they had entered the crowd and the confrontation begun but the Police were at the traffic light junction so they stopped them," a reporter with Tamale-based Diamond FM Ken Edward told StarrFMonline.com.

He said calm has been restored and the demonstrators are proceeding with their march.

The opposition political parties led by the New Patriotic Party are demonstrating over the economic situation in the country.