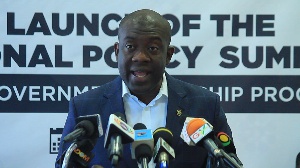 Information Minister, Kojo Oppong Nkrumah, has urged former President John Dramani Mahama to either remain silent or speak to facts whenever he wants to speak to national issues.
The minister was responding to calls on the Akufo-Addo administration by former John Mahama to fumigate the various public senior high schools (SHSs) across the country because of the invasion of bedbugs.

The former president attributed the invasion of the bedbugs to congestion in the various schools due to the implementation of the free SHS policy.

Interestingly, the bedbugs' invasion of schools started during the administration of John Mahama when there was no free SHS policy.

The then Director General of the Ghana Education Service (GES), Jacob Kor, who was appointed by Mahama in January 2016, described the invasion of SHSs by the blood-sucking bedbugs as a "serious health issue."

He directed all regional directors to seek permission to close down schools for fumigation if the problem got out of hand.
At a press briefing in Accra yesterday, Mr. Oppong Nkrumah, observed that Mr. Mahama's position over the fumigation of SHSs across the country was sharply misleading.

That, he said, was because contrary to the claims being made by Mr. Mahama, government had actually fumigated about 678 out of nearly 700 public SHSs.

He said "the administration thereby encourages the former president that when it comes to state and national matters, it will be best if he speaks in the national interest, and speaks to facts."

According to him, "Let me state that there are no records available of the last time all SHSs in Ghana were fumigated comprehensively even under the tenure of former President Mahama like has been done today."


Pretense

He added that "and it's interesting that things that he did not do even when it is done under this administration he seeks to pretend he is not aware or does not have the information and then goes out to make comments aimed at undermining them."

Breakdown

He gave the breakdown of the schools fumigated under the current administration, saying 120 of them are in the Ashanti Region, 80 in Brong Ahafo, 70 in the Central Region, 97 in the Eastern Region, 50 in the Greater Accra Region, 52 in the Northern Region, 34 in the Upper East Region, 21 in Upper West, 100 in Volta Region and 54 in Western Region.

According to the minister, the fumigation exercise was completed last week, pointing out that "the Akufo-Addo administration remains committed to seeing that the Free SHS programme succeeds. We will not leave any stone unturned in achieving this objective."