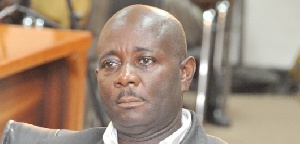 National Chairman for the United Progressive Party has disclosed the party decided to throw its support behind John Dramani Mahama because the party received huge financial assistance to prosecute its political campaigns.
Alhaji Zakari also confessed, the president and ruling National Democratic Congress also presented three brand new Toyota Hilux pick-up trucks to facilitate the party's activities across the country.

The National Chairman in an interview says he, therefore, does not understand why the party's flag bearer, Akwasi Addai, affectionately called Odike will betray the ruling National Democratic Congress which has been so generous to the party.

Alhaji Zakari has however accused the party's flag bearer of hijacking the said cars for his personal use after he was suspended from the party.

National executives of the United Progressive Party (UPP) at a news conference yesterday accused the party's flag bearer, Akwasi Addai Odike, of receiving GHS 500,000 to endorse the candidature of opposition New Patriotic Party presidential candidate Nana Akufo-Addo for the 7 December polls.

According to the executives, investigations had revealed that the party's national organiser, Saahene, also received GHS6,000 of the said amount and Sammy Awuku, who is the National Youth Organiser of the NPP, also took 10 per cent after brokering the deal.

The embattled presidential nominee, Kwasi Addai Odike formally informed the Electoral Commission that he is backing out of the 2016 presidential election.
His decision came barely hours to the electoral body's announcement of persons who made it to the final list of presidential candidates for the election.

The nomination of Odike to contest on the ticket of the United Progressive Party was challenged in court by some party members. The ruling has been fixed on December 5, two days to the presidential election.

Addai Odike had earlier failed to meet the Electoral Commission's 14th October deadline to resolve the legal battle with his party.

Even when the Supreme Court ordered the EC to extend the deadline for nomination which ended November 8, Odike could not reach consensus with his party to clear the path for his presidential ambition.

Source: www.abusuafmonline.com/Ghana