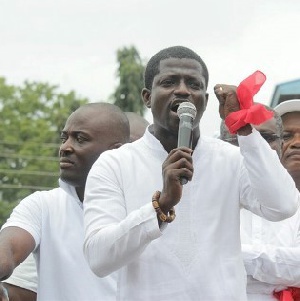 The Pressure group Let My Vote Count Alliance (LMVCA) has accused President John Mahama of compromising the Electoral Commission (EC) to take a decision that will be favorable to the ruling National Democratic Congress (NDC) party on calls for a new voters register.
According to the group, the President on a visit to France last week while answering a question as to whether there was the need for a new voters register, subtly indicated to the EC that the Electoral register must be cleaned and not replaced entirely as demanded by some opposition parties.

"….Our register is young and can be cleaned, we have an independent Electoral Commission and the Electoral Commissioners have security of office. I am not supposed to interfere in the work of the electoral commission. Ghana has an EC that is independent and does not consult the president to do anything," Mr. Mahama stated.

However, speaking on Kasapa FM, David Asante, Convenor of LMVCA, maintained that the President being an interested party in the debate over the need for a new voters register should have declined comment on the issue.
"The President's comment is a clear indication of an underhand dealing or a covert move to compromise the EC on this thorny issue. We heard the EC Boss also saying her outfit was going to consult people to study the possibility of cleaning the register. The President and the EC saying the same thing cannot be said to be coincidental. To give a direct pointer to someone whom you the President appointed leaves much to be desired.

David Asante further argued that in the past, whenever there have been disagreements in relation to the Voters register, it is not cleaned as stated by the President, but rather it is replaced.