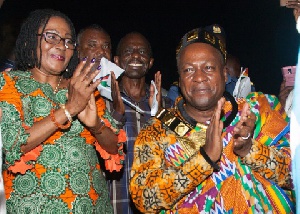 Thu, 20 Oct 2016 Source: Maxwell Okamafo Addo
The Chiefs and people of Diaso have conferred on President John Mahama a Development chief (Nkosuoo Hene) of Diaso in the Central Region.
This they said is in appreciation of the transformational change that they have witnessed under his leadership as the President of Ghana.

This was made known when the Vice President Kwesi Amissah-Arthur as part of his "touching base with the people" campaign for Ghanaians to renew the mandate of President Mahama visited the area.

The show of love for the NDC party was attested by the people of the area by coming out massively to receive the Vice president Kwesi Amissah-Arthur in the area.

The Vice President who is on a four day campaign tour to the Central Region stormed the Upper Denkyira West Constituency to continue with Changing lives and Transforming Ghana Agenda Message.

The Vice President Kwesi Amissah–Arthur in his address to the chiefs and people of the area said continuity is key in the development of a nation.

Mr Amissah-Arthur said there's the need to give President Mahama another term to continue with his massive infrastructure development that they have witnessed in the area.
He said the NDC is a party that cares for all Ghanaians and is not discriminatory in the Sharing of the national cake. So for them to get more development in their area as they have witnessed they need to vote for the President Mahama and the NDC candidate in the area in order to bring more development to the area.

The Vice President used the occasion to introduce the NDC Parliamentary Candidate for the area who also doubles as the DCE for the area Hon Ambrose Amoah-Ashyiah to them.

The Vice President said there is the need for them to vote for him to compliment the efforts of President Mahama in his next term of office.

On his part the chief of the area Nana Agyei Ameyaw 11 lauded the NDC for the numerous developmental projects that he has witnessed in his area under the President John Mahama.

He said the projects that he has witnessed are unprecedented and that they never dreamt of it, especially the massive road infrastructure and the putting up of the new SHS E Block School in his area.

The Vice President also Visited Ayanfuri also in the same District where a mini rally was held. The Vice President re echoed the need to Vote for President Mahama in December and also introduced the NDC parliamentary candidate in the area to them Hon Ambrose Amoah–Ashyiah so that they give him the needed push by voting for he and president Mahama for continuity on 7th December 2016.
Source: Maxwell Okamafo Addo