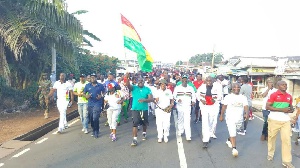 Sun, 6 Nov 2016 Source: Samuel Ablordeppey
The Chief of Staff Julius Debrah has stated that the grounds are fertile for a one touch victory for President John Dramani Mahama and the National Democratic Congress (NDC) in the upcoming December elections.
The Chief of Staff who climaxed his five day tour of the Volta region with an 8km health walk thru the principal streets of Ho in the Volta region said "the fields are white , and therefore the need for the party to intensify it's efforts at working for a one touch victory.

He indicated that, the President Mahama government had given hope to Ghanaians and pursued policies that had gone a long way to bring about great change in the lives of the people.

He thanked the Chiefs and people of the Volta region for the warm reception and the positive assurances of giving the President a second term to go ahead with his vision of 'changing lives transforming Ghana.

The tour of the Volta region took Julius Debrah to the Nkwanta north and south constituencies, Afadjato south and Akan constituencies, North and South Dayi constituencies, Kpando among others.

He met the revered chiefs, the clergy and moslem clerics where he explained and interacted with them on the need to maintain President Mahama and the NDC for a second term.
President Mahama had done remarkably well and given the opportunity he would do even more to comprehensively transform the infrastructural and economic fortunes of Ghanaians, he stated.

"If Ghanaians gave former Presidents Rawlings and Kufuor 8 year terms, why not President John Dramani Mahama? " he queried.

"The grounds are fertile, the fields are white, we therefore need to double our efforts at working hard to make a one touch victory a real possibility," he emphasized.

He said the quality and experience of President Mahama cannot be over emphasized. He is a man of his own words who is honest, determined and commited to continue with the transformation and change agenda.

He pointed out that though victory for the NDC is in the air, there is the dire need to move the campaign a notch higher by spreading the good works of the NDC government under the capable leadership of the Commander in Chief.
On her part, the regional minister Helen Adwoa Ntoso said the huge turnout at the walk had sent shivers down the spine of the opposition New Patriotic Party (NPP) across the country.

She thanked the minister of sports Nii Lantey Vanderpuye on behalf of the Chiefs and people for reiterating the pledge by the President of providing the region with a brand new state of the art sports stadium.

She said judging from the success of the Chief of Staff's tour being a follow up to the President's gives her much hope that the operation gap 1 million votes is a reality.
Source: Samuel Ablordeppey