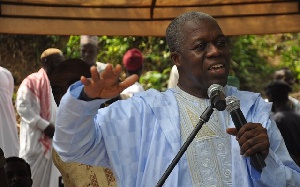 The Vice President Paa Kwesi Amissah-Arthur has taken a swipe at the opposition New Patriotic Party over claims that the Mahama led administration is incompetent.
According to him the NPP is attacking President Mahama and his administration because they lack a clear message that can convince the electorates to vote for them.

The Vice President was addressing a durbar of Chiefs at the celebration of Adimkese festival at Wassa Akropong in the Western region.

The NDC he explained cannot be described as incompetent due to the unprecedented achievements chalked under the Mahama led administration.

"Clearly, a government that is doing all these projects for Ghanaians, like the Mahama administration cannot be described as incompetent and it is only those political parties with no message that will say so," he said.
Touting the achievements of government, he mentioned the road construction projects being undertaken across the country, expanding electricity to rural areas, construction of hospitals, and other health post, and building new schools, as some of the projects by government to develop the country.

He also used the occasion to appeal to electorates to vote massively for President Mahama to ensure that he continues with his good works.

On his part, the Omanhene of Wassa Amenfi Traditional Area, Tetrete Okuamoah Sakyim II, commended government for the various developmental projects in the area.