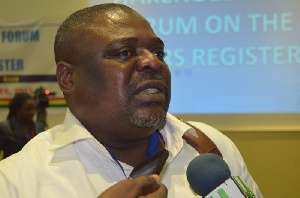 President John Mahama is possessed by the truth as far as the "divisiveness" and "dictatorial tendencies" of the flag bearer of the main opposition New Patriotic Party (NPP), Nana Akufo-Addo is concerned, Deputy General Secretary of the governing National Democratic Congress (NDC), Mr Koku Anyidoho has said.
"…If you are possessed by the truth, and the truth is coming to you as a vision from so many angles, what is wrong with it? There is nothing wrong with it. So the President is possessed with the truth.

"If I wake up in the morning and I'm possessed with the truth and I'm not possessed with divisive tendencies, I'm not possessed with divisive tyranny, I'm not possessed with the spirit of dictatorship, but I'm possessed with the spirit of truth and I speak the truth, what's wrong with it?" Mr Anyidoho asked Emefa Apawu on Class91.3FM's 505 news programme on Thursday, 25 August in response to the opposition New Patriotic Party's comment that the President speaks as though he were "possessed" any time he mounts the campaign platform.

The comment, made by the NPP's acting General Secretary at a press conference was a reaction to Mr Mahama's recent personality attacks on Nana Addo Dankwa Akufo-Addo, the presidential nominee of the NPP.

Mr Mahama has described the NPP flag bearer as a "dictator" and a "dangerous" political figure in the country. He also said the three-time flag bearer of the NPP is very "divisive" and also sleeps during his campaign tours, therefore, fails to see the development projects undertaken by the government.
But Mr Boadu said at the press conference that: "Insults will not create jobs or fix the economy Mr President. Since officially launching [its] campaign in Cape Coast recently, the National Democratic Congress, led by President John Dramani Mahama, has made it clear how they intend to wage their campaign.

"After eight straight years in office and seeking to extend it to 12 years if elected this December…the NDC intends to once again prosecute a campaign of lies and insults against Nana Addo Dankwa Akufo-Addo.

"The attacks, much to our bemusement, are being led by the commander-in-chief himself, our president. It is said that if you want to know the true colour of a person, see how he behaves when under pressure. …President Mahama is now showing his true colours. Rather than addressing the myriad problems the country is facing, he has reduced his bid for re-election to manifesto of lies and insults against Nana Addo Dankwa Akufo-Addo.

"The president is talking as if he is possessed. He is using words as if he is seeing things [in duplicate]. First, he insults Nana Addo for daring to re-echo the cries of the Western Region over the bad state of their roads, then he dares accuse Nana Addo Dankwa Akufo-Addo, [who is] one of the foremost champions in the struggle against military dictatorship and for democracy and freedoms, as a dictator."