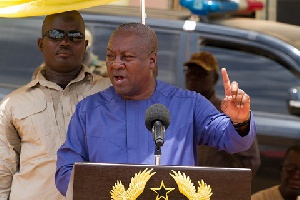 The Chief of Staff Mr. Julius Debrah has stated categorically that the leader of the ruling National Democratic Congress (NDC) John Dramani Mahama is a President the electorate can trust.
"One reason why I trust my president, not because I work for him but because of the principles he espoused. He is an epitome of hard work, honest, fair, God fearing, knowledgeable and above all his commitment to building a just and equitable society," Mr. Debrah stated.

The Chief of Staff was speaking during a courtesy call on the paramount chief of the Lawra Traditional area Naa Dr. Edward Puowule Karbo at his palace in Lawra in the Upper West region.

He said: "Having worked with him, if I look around and I see the developments that has taken place these few years under President Mahama in the area of education, health, first class roads which did not exist in the past among numerous others, I can say without a shred of a doubt that President John Dramani Mahama is a leader Ghanaians can trust and rely on at all times."

Mr. Debrah indicated that though Chiefs are not allowed to engage in active politics, the achievements of Mahama should be convincing enough for the Lawra Naa to appeal to his people to retain Mahama for a second term for "accelerated development in the area and by extension Ghana".
He said chiefs could use the wisdom to decipher between a prank and reality and for that matter the need to proliferate the good works of the President to his followers.

On the issue of equitable distribution of the national cake, Mr. Debrah said the nation is huge and the demands are many, but at least "I am happy you praised government for constructing the Lawra - Nandom road".

"This government under President Mahama is desirous to ensuring all the nooks and crannies in the country get their fair share of the national cake," he pointed out.

On his part, the Lawra Naa Dr Karbo said he was happy about the fixing of the Lawra road that leads to his palace. "At the right time I will praise the President myself," he said.