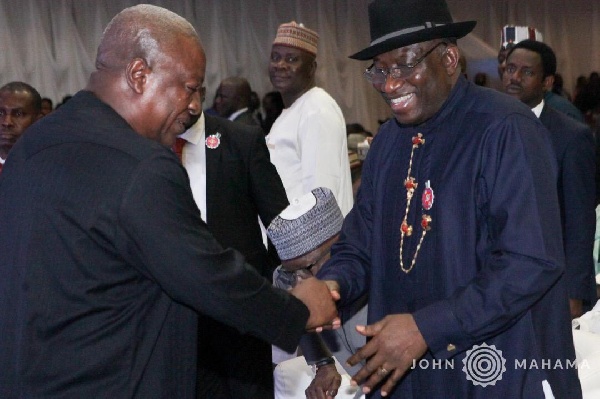 Former President John Dramani Mahama on Tuesday, November 20 joined former Nigerian President, Goodluck Jonathan at the launch of his book titled "My Transition Hours" in Abuja, Nigeria.
Goodluck Jonathan chose his 61st birthday to launch the book which detailed events leading up to his concession after he lost elections in 2015.

It chronicles how he accepted defeat in highly contested polls barely four years ago at the time he was seeking a final term in office as candidate of the Peoples Democratic Party (PDP). He lost the contest to incumbent president Muhammadu Buhari. It was the first time in Nigeria's recent history that an opposition party had wrestled power from the ruling party.

PDP had been in power for sixteen years prior to 2015 when they lost. Before the All Progressives Congress (APC) government, PDP had ruled eight years through Olusegun Obasanjo who handed over to Umaru Musa Yar-Adua who died in office. His then vice president Goodluck Jonathan completed his term and won his substantive first term in 2011.

Just like former President Mahama who also took over as president when John Evans Atta Mills died and later won his substantive first term in 2012, Mahama wrote the foreword to the book as they have similar things in common.

The event featured dignitaries from across Africa with Nigeria's former presidents Olusegun Obasanjo and Abdul Salam Abubakar, Benin's Thomas Boni-Yayi and Sierra Leone's Ernest Bai Koroma.
Below are some photos from the Abuja event.