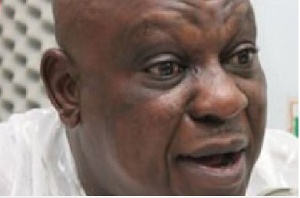 Editor for the Al-Hajj newspaper and an activist of the opposition National Democratic Congress (NDC), Alhaji Iddrisu Bature has categorically stated that President Akufo-Addo's promise to fund the cost of public Senior High Schools[SHS] starting from September 2017 academic year is as a result of the good foundations laid down by former President John Dramani Mahama's government.
President Addo Danquah Akufo-Addo as the Special guest of honour at Okuapeman's 60th anniversary celebration over the weekend affirmed that his governments will fund the cost of all Public SHS student who qualify entry from September this year.

To him "free SHS in his government means in addition to tuition fee which is already free, there will be no admission fees, no library fees, no science centre fees, no computer lab fees, no examination fees, and no utility fees. As part, free text books will be given to students, free boarding facilities and free meals, Day student will also get a meal at school for free."

The free SHS he added will cover agricultural, vocational and technical institutions at the High School level.
However, these promises made according to Alhaji Bature would not have come to pass if the past government led by President John Dramani Mahama had misused resources as presumed by members of this ruling government when they were desperately speaking against the previous government to win the 2016 elections.

"Already laid down foundations have paved the way for the current free SHS," he said.

Speaking during a panel discussion on UTV's 'Adekye Nsroma' programme, he explained that "It is no news if President Akufo-Addo says this because the previous government made us understood that there would come a time in Ghana that SHS education will be free."