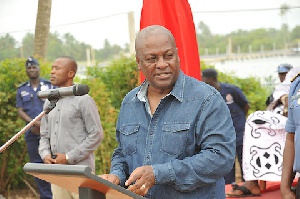 President John Dramani Mahama has lamented the falling standards of education in the Central Region and called on stakeholders to reverse the trend.
The president, who was speaking at this year's Oguaa Fetu Afahye, which was held on Sunday September 4 on the theme: 'The falling standards of education in the Cape Coast metropolis – Responsibilities of the stakeholders'.

He observed: "There are pockets where performance remains disappointing. There are also once top-performing schools that seem to have suffered a deterioration in recent years. On the other hand, we have also recorded disturbingly poor performances among some candidates in some schools and considering that parents, government, and teachers have invested so much money and effort in the training of students, this certainly should be a cause for worry."

For him, it was therefore important "to ensure that we sustain the excellent performance put up by our top students while at the same time supporting our weakest students to achieve at least a credit in all the subjects they present for exams".

The president admitted that education was key for the development of any country, hence necessary measures needed to be instituted to uphold standards.
He said government would do its best but stakeholders in the region must also do their part for the development of education in the area.

Addressing the jubilant audience who turned up for the festival at the Jubilee Park, the Omanhene of the Oguaa Traditional Area, Osabarima Kwesi Atta, thanked the Mahama-led government for several developmental projects in the region including the Cape Coast Stadium.

President Mahama donated a sum of GHS 10,000 to the traditional council and some brilliant but needy students received scholarships from the Cape Coast Endowment Fund.