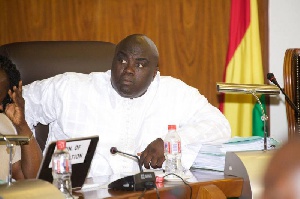 The Chief of Staff, Julius Debrah, has asserted policies captured in the ruling National Democratic Congress' manifesto are "sincere promises" aimed at transforming Ghana over the next four years.
Mr. Debrah said President John Dramani Mahama has kept faith with Ghanaians and will therefore go all out to ensure the execution of the green revolution in the agricultural sector as captured in the NDC Manifesto.

According to him, agriculture will receive a major boost through a mechanization programme in which every district in Ghana will host farming Mechanisation Center with a minimum of 10 tractors equipped with implements such as harvesters among others.

He said government will release the tractors and its associated agro-chemicals to farmers in groups to enable them cultivate commercial farms to boost the food basket of the country.
Addressing a convention by the Saviour Church of Ghana at Akyem Osiem in the Eastern region, Saturday, Mr. Debrah urged farmers, in particular, the Saviour Church of Ghana, which is engaged in commercial farming to initiate processes that will qualify them to be allocated a Mechanized Center in the next term of President Mahama to support the Church's commercial farming activities.

The General Superintendent of the Saviour Church of Ghana, Opanyin Abraham Asirifi commended government for the agriculture mechanization programme.

He said the Church has been allocated a huge land by the Nkwatia Traditional Council to expand its commercial farming hence need tractors to plough the land.