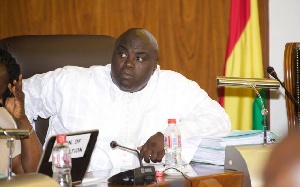 President John Mahama will use his second term to transform Ghana should he win the 7 December polls, Chief of Staff Julius Debrah has said.
Speaking to party supporters in the Upper West Region last week as part of the governing National Democratic Congress' election campaign, Mr Debrah, who is standing in for Mr Mahama, who is currently in Paris, France, on an international assignment, said Mr Mahama, just like his predecessors deserve a second term with which he will use to transform Ghana.

"When President Rawlings was president, all Ghanaians voted for him, they gave him eight years and he did what he could. During President Kufuor's regime, all Ghanaians again voted for him so he served two terms – also eight years. The late President Atta Mills would also have had that opportunity.

Now one of your own, President John Mahama has done only two years and some people want him out. Is that fair? We are not saying just vote for him but at least let's give him the opportunity to also serve eight years then we can compare all three. But I bet you. By the end of President Mahama's second term, Ghana will see massive transformational change," the former local government Minister said.

"If the system is working, we must keep it going to bring about the change we desire. Countries like Malaysia have achieved progress not because they changed governments but because they kept governments that were working," he reiterated.
He urged people of the region to ignore promises being made to them by the vice-presidential nominee of the main opposition New Patriotic Party (NPP), Dr Mahamudu Bawumia since he is only a "driver's mater" without any real power to effect change even if his flag bearer Nana Akufo-Addo wins the polls.

"In every moving vehicle, there is someone behind the steer and a driver's mate. The driver determines which direction the car is move. The mate may have a say, but the driver takes the ultimate decision.

In this simple analogy, President John Mahama is the driver. Dr Mahamudu Bawumia a Vice Presidential candidate will be the diver's mate should Nana Addo win and cannot have the ultimate power.

If he proposes something for you and Nana Addo says later, there is nothing he can do," Mr. Debrah told the chiefs and people of Kaleo.