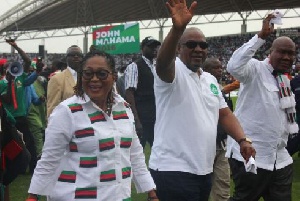 The Deputy Minister of Employment and Labour Relations, Baba Jamal has stated that comments made by President John Dramani Mahama on his ongoing tour of the Western Region about NPP flagbearer, Nana Addo Dankwah Akufo-Addo was charitable.
Nana Addo had bemoaned the state of roads in the region during his five-day tour of the region, criticizing the government for failing to honour its promise to fix the roads.

President Mahama, who is on the tour to kick-start NDC's campaign after it was launched last Sunday, hit back at Nana Addo, stating that the NPP flagbearer must have been sleeping to have missed the good work done by the government on the roads.

"During my campaign in 2012, I realized that most of the roads here are very bad. I made the promise to invest heavily in roads here if I am elected President. I have kept my promise. Under the cocoa roads programme, most of the projects are in the Western Region.

"The majority of roads in this region, are many, I cannot name them. I heard someone came here and said he had not seen these roads. I am sure he was sleeping at the time," President Mahama said.
Addressing a news conference on Wednesday, the Director of Operations for the NPP campaign, John Boadu, said the language used by the President was unfortunate and 'unpresidential'.

But speaking on Starr Chat Wednesday Mr. Jamal who is also the Member of Parliament for the Akwatia Constituency said the President was even charitable with his description of Akufo-Addo.

"The President was even charitable with him," Mr. Jamal told sit-in host Nana Aba Anamoah.

According to him, it is impossible for Akufo-Addo to travel to the Western region and claim not to have seen the development of roads in that region.