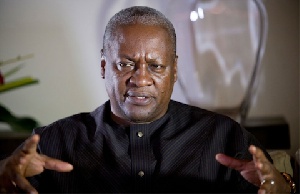 President John Dramani Mahama's comments that the flag bearer of the New Patriotic Party (NPP) slept while on his tour of the Western Region, and could, therefore, not see the development projects in the region, is an insult not only to the opposition leader but the chiefs and people of the region, Okatakyie Amankwaa Afrifa, Western Regional NPP Communications Director, has said.
Mr Mahama, while on his tour of the region this week, took a swipe at the three-time flag bearer of the NPP after the latter complained of the deplorable road network in the region.

Nana Akufo-Addo assured the people that should he win the elections to become the next president of Ghana he would fix the poor nature of the roads in the region. He criticised the government for failing to construct and reconstruct the rails in the region.

A statement released by Mr Amankwaa Afrifa on Friday August 19 said: "We see this not only as an insult to Nana Akufo-Addo, but also the chiefs and people of the Western Region.
The Western regional branch of the NPP will like to place on record that it is the chiefs and people in the region who first complained about the roads to Nana Akufo-Addo.

"The following chiefs – Ogyeahorhuor Kwaku Gyebi II of the Anhwiaso Traditional Area, Nana Kojo Adoah IV of Adabokrom, Nana Aning Baffour II of Essam, Nana Ntaadu III of Bonzai, Nana Kwame Nkrumah I of Bodi, Nana Badu Kwasi Kwarteng II of Akontombra, and the chiefs and people of Prestea-Heman, all mentioned the bad state of their roads as their number one concern."

The NPP, therefore, deemed the comments by the president an attack not only on Mr Akufo-Addo but also on the chiefs saying an apology from the president would be in order.