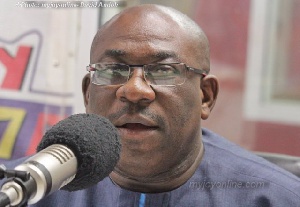 Sun, 20 Nov 2016 Source: Nhyira FM
Government is promising ready employment avenues for the youth as it promises to create over three jobs beginning next year.
Deputy Minister for Communication, Ato Sarpong says Ghanaians, especially the youth seeking employment in health, education, information communication technology and public works will be provided with ready-employment opportunities on the job market.

"When the schools are done, opportunities still exist for you. Opportunities would be for teachers; anybody who is a nurse here has a job waiting. Anybody practicing to be a doctor has a job waiting; anybody practicing to be a healthcare assistant has a job waiting. Anybody wanting to be an accountant, there is a job waiting for you."

Speaking at a Job Summit in Kumasi as part of the 5-day campaign tour of the Chief of Staff on Friday night, he asked the youth to take up careers in the sectors earmarked to receive boost to position them for opportunities.

"In this category alone, between 400,000 and 600,000 would be created. So therefore, if you are deciding on which area you must go in, you must o into any of these areas because it gives you automatic job."
The National Democratic Congress is parting themselves at the back for creating 800 thousand jobs in the first tenure of President John Mahama through the provision of infrastructure and creation of enabling business environment for private entities.

Mr. Sarpong told the packed auditorium government will pay more attention to the revival of state owned enterprises, siting the STC [State Transport Corporation] as an example and also support young entrepreneurs in start-up businesses.

"There are a lot more institutions like that [State Transport Corporation]. My count gives me not less than 20. If each one is 250X20, reviving state-owned enterprises alone give us what, 5,000 people and that's how His Excellency is committed to create 3 million jobs over the next 4 years."

Chief of Staff, Julius Debrah is challenging the youth to take advantage of government policies on job creation to venture into entrepreneurship.
Source: Nhyira FM