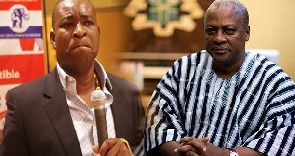 Former President Mahama would continue to remain disillusioned until he finally accepts that Ghanaian voters aren't ready to fall for his political pranks, the Ashanti regional Chairman of the New Patriotic Party has said.
Mr. Bernard Antwi-Boasiako, in an interview with Peacefmonline.com stated that the sudden u-turn made by the former president on the free Senior High School policy wasn't only mind boggling but also, an insult all parents and students who are benefitting from the program.

According to him just like former President Mahama run down Ghana's economy by introducing "dumsor", he would turn the free Senior High School (SHS) into perpetual darkness if given the nod to rule.

The Ashanti Regional Chairman popularly known as Chairman Wontumi noted that "Mahama can only turn good things into bad. He won't add anything to the free SHS. He would only create problems for the policy and strangle it for it to die. He would turn free SHS into dumsor".

Chairman Wontumi continued that "When Nana Akufo-Addo was going round in 2016 explaining to Ghanaians how he would introduce the free SHS, we all heard Mahama telling us it can't be done. The reasonable voters who shared in the vision of Nana Akufo-Addo voted for him to be President and he has successfully implemented the policy.

We now have an incompetent former president going round telling Ghanaians that he would not cancel the policy if voted for. This is an insult to the millions who voted the NPP into the power. How can Mahama kick against it and tell us it isn't doable and turn around to praise it. He should continue wallowing in his pool of incompetence. He won't have the chance to be president again. Ghanaians are not ready for another prank from him", Mr. Antwi-Boasiako said.
Former President John Dramani Mahama has said he will not cancel the free Senior High School (SHS) educational policy when voted to power.

According to the former President "free SHS has come to stay." Addressing the opening of the 27th Annual Presidential delegates congress of the Ghana National Union of Technical Students in Kumasi, Mr Mahama said if he should come back into office, he would hold stakeholders meeting in his first three months.

The stakeholders, he said would include parents, teachers and experts to remove all the bottlenecks associated with the current free SHS policy.

"Indeed, no government either present or in the future can reverse the policy because it is captured in our 1992 constitution," former President Mahama said at the meeting which was a convocation of all the technical universities to elect new leaders to shape the vision of the Union.