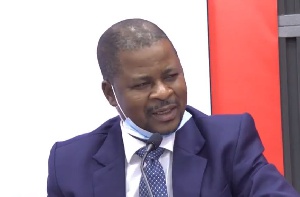 A lot of the perceived corruption against the Akufo-Addo government is social-media influenced, former Deputy Attorney General, Joseph Dindiok Kpemka has said.
Speaking on a report by the Centre for Democratic Development (CDD), which said 62 percent of Ghanaians were of the view that the Akufo-Addo government cannot curb corruption and impunity by government officials, Mr. Kpemka told Class91.3FM's Blessed Sogah on the 505 news programme on Tuesday, 31 August 2021 that the president has done and showed a lot of commitment to the fight against graft.

"His Excellency the President, Nana Addo Dankwa Akufo-Addo, fought the battle to become president largely on the lines of corruption and he was given a massive endorsement by Ghanaians in 2016," Mr. Kpemka noted.

He said: "Mindful of this and being sure of the fact that the people had endorsed him to fight corruption, he put in place certain measures – statutory provisions that were enacted, quite a number of very very robust and time-testing laws were actually promulgated by the 7th Parliament, to ensure that the fight against corruption is taken to another level."

"So, he was not just paying lip service; he walked the talk. And, so, he set that record of being the president who, for example, brought to fruition, the Right to Information Act, the Office of the Special Prosecutor Act, Public Officer's Act, and much other such legislation that were never promulgated in the history of our country," he said.

In his view, the perception of corruption in the government is artificial.
"I'll say without hesitation that one of the difficulties this government is encountering is the onslaught by a certain marauding part of the population with pieces of information on social media and other platforms that go a long way to influence people's perception of corruption," Mr. Kpemka explained.

According to him, "some of those things are imaginary."

"Others are concocted and some may be mischievous," he added.

"So, if you put together these things and the way social media and traditional media have, in the past few years, taken on government and all that; and every day blowing it into the ears of many a Ghanaian, the fact that there is corruption here and there and sometimes without a shred of evidence, etc., or at the slightest smell of one, they start throwing it out, so, influencing the public perception of corruption doesn't mean that is the reality."