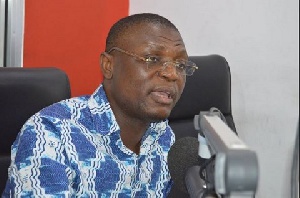 The state transporter, Metro Mass Transit Limited (MMTL) is reportedly on the heels of the opposition National Democratic Congress (NDC) over buses the party rented whilst in government but allegedly failed to pay for the services the company rendered to it.
According to a pro forma invoice issued to the NDC after it had lost the general elections on December 7, last year, a total of GH¢1.921,896.99 was supposed to have been paid to the state transport company by the then governing party.

Pro forma Invoice

The pro forma invoice was sent to the party's headquarters for the attention of the NDC National Organizer, Kofi Adams, who doubled as the Campaign Coordinator of John Dramani Mahama's campaign team – which failed to achieve the goal of a second term bid for the former president. DAILY GUIDE learnt that the debt was still not fully paid.

The NDC had allegedly hired a total of 506 buses for its luxurious 2016 electioneering campaign but sources say the party only paid GHC410,000 out of the GHC1.921,896.99 debt, despite a supposedly generous discount offered to the party.

Metro Mass had even given the NDC a 20% discount for using the buses between November 30 and December 9, 2016.

The original amount for using the 506 buses was GHC2.402,371.24 but were given an invoice of GHC1.921,896.99 as a result of the 20% discount.
All attempts to speak to Kofi Adams and the MMT Managing Director, Hassan failed as calls put through went unanswered.

DAILY GUIDE sources claim that the NDC's inability to settle the debt has impeded the MMT's bid to settle its creditors, including GOIL which supplies the transport company with fuel.

GOIL source told DAILY GUIDE yesterday that the state transporter indeed owes it (the oil company) but could not readily lay hands on the amount.

Breakdown

In the invoice, Metro Mass gave details of the locations that all the 506 buses were distributed to. The buses were used to ferry party supporters to their voting centres across the country, but the party's humiliating defeat by Nana Akufo-Addo and the New Patriotic Party (NPP) made it difficult for it to settle the bill.

Cape Coast had 22 buses at a total cost of GHC105,950.00 and a 20% discount of GHC84,760.00 while Wa and Koforidua had 11 each at a cost of GHC60,977.80 for Wa and GHC50,600.00 for Koforidua and a 20% discount of GH¢48,782.24 and GHC40,480.00 respectively.
According to the invoice, Kumasi had 113 buses with the overall cost of GHC601,740.80 at 20% discount of GHC481,392.64 while Takoradi had 42 at GHC411,591.00 with 20% discount of GHC329,273.52.

The invoice indicates that Swedru was given 23 buses – GHC131,050.00 and 20% discount of GH¢104,480.00 with Adenta, Accra, getting 50 buses – GHC186,496.00 at 20% discount of GHC149,196.80, while Ho received 48 – GHC65,619.00 at 20% discount of GHC52,495.20.

Tema was given 26 buses at the cost of GH¢159,300.00 with 20% discount of GHC127,440.00; Kaneshie had 38 – GHC203,600.00 and 20% discount of 162,880.00, while Laterbiokoshie, Accra, had 31 – GHC215,800.00 with 20% discount of GHC172,640.00/

There were 23 buses for a special project at a total cost of GHC55,600.00 and 20% discount of GHC44,480.00, while Oda had 5 buses at the cost of GHC39,824.00 and 20% discount of GHC31,859.20. Sunyani was allocated 17 buses – GHC29,900.00 with 20% discount of GHC23,920.00.

Tamale had 25 – GHC48,600.00 at 20% discount of GHC38,880.00, while Bolgatanga was also allocated 21 – GHC53,721.74 with 20% discount of GHC28,577.00.