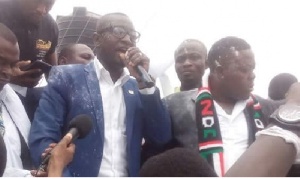 Salifu Maase, a member of the infamous Montie 3, has lashed out at the National Democratic Congress (NDC), accusing it of neglect in an audio which has gone viral on social media.
Mr. Maase, otherwise known as Mugabe, is one of the three given four months jail term by the Supreme Court for contempt - following disparaging remarks they made against it.

President John Mahama remitted the remainder of the four months prison sentence after they served one month in jail.
In the audio recorded supposedly during his show on Wednesday October 26 on Montie FM, Mugabe lambasted the government for buying cars to some "so called" senior journalists to their detriment.