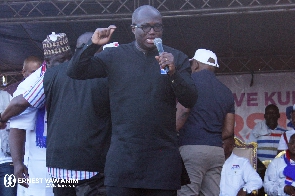 The Member of Parliament-elect for Kumawu has said that his massive victory in the by-elections shows that his party, the New Patriotic Party, is in a pole position to win power for an unprecedented third successive term.
Speaking to the media after the declaration of the by-election results, Ernest Yaw Anim said that his win shows that the NPP can achieve anything with unity.

He added that his victory was also a testament to the good works of the Nana Addo Dankwa Akufo-Addo government.

"My victory is proof that unity can change anything. The unity I brought has translated into the results we saw today. The number of votes that I got is so significant. This was a landslide victory – over 71 per cent of the votes cast.

"I also said earlier that the success of the NPP government and the good works it continues to do for the people of Ghana will make us win this election. I knew that the NPP was heading for a big victory.

"Every Ghanaian has accepted that NPP is the only party that can lead the country to the promised land; NPP is the only party that fulfils its promises. We said we would fix the roads in Kumawu, and today it is evident to everybody," he told reporters in Twi.

"… this victory is also a sign that the 'breaking the eight' agenda is possible. This is a total statement that the NPP is ready to break the eight," he added.
Ernest Yaw Anim polled 71 per cent (15,264 votes) of the total votes cast to retain the seat for the ruling party.

In a distant second was the National Democratic Congress candidate, Akwasi Amakwaa, who garnered only 17 per cent (3,783) of the votes.

The by-election was held after the Kumawu seat was declared vacant following the demise of the Member of Parliament for the constituency, Philip Basoah.

Watch Yaw Anim's remarks in the video below:



You can also watch the latest episode of People & Places:


IB/OGB