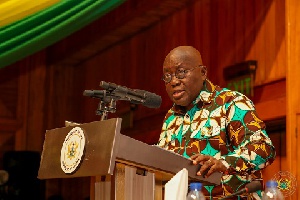 President Nana Addo Dankwa Akufo-Addo has slammed his opponents and critics describing them as people lacking understanding.
The president told residents in the Central region he was attacked, vilified, insulted and ridiculed when he promised to roll out the free senior high school policy, the one-district-one-factory among others.

According to the president, his opponents exhibited incompetence during their tenure and because of that, they could not roll out policies to benefit Ghanaians.

The Free Senior High School he reiterated will continue despite the challenges and assured Ghanaians of an accountable, transparent and incorruptible style of governance.

''My opponents told you I was deceiving you when I promised free SHS. Is the free SHS not being implemented? They told you I was deceiving you and campaigned against my policies but today, the promises are being fulfilled one after the other. I will ensure that all my promises are fulfilled. I will not disappoint Ghanaians.''.
On Sunday, the president asked the Christian community to remember him in prayers when he visited the Emmanuel Methodist Church. He admonished the congregants to always pray for him so he could fulfill his promises he gave citizens in 2016.