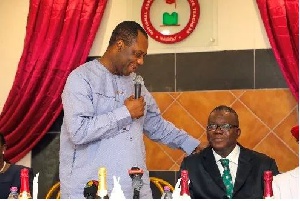 The National Association of Graduate Teachers (NAGRAT) has descended heavily on government for the poor consultation prior to announcing the introduction of the double intake and semester system under the Free SHS policy.
It said even the best thought-out plan in the education sector is likely to meet unexpected shocks; hence the need for broader consultation and readiness to engage major stakeholders.

The Association has, therefore, advised government not to pursue the system as it will overburden the teacher.

"We will therefore have no option than advise our members to work according to their conscience," concluded a communiqué issued after a meeting on Thursday, July 26.

The meeting is said to have extensively deliberated the double intake system to be introduced in senior high schools from September to partly address the challenges with the increase in enrollment as a result of the Free SHS policy.

According to government, the double intake system is supposed to deal with the 181,000 gap to be created by the increase in enrolment.

Eight thousand teachers are expected to be employed by government as part of measures to deal with the challenges.


But in the communiqué unanimously signed by executives of NAGRAT, teachers are going to be overburdened.

"The National Executive Committee categorically rejects attempts to force teachers to work on weekends since it is at variance with the labour law."

The teachers pointed out that they would not even have vacations since Form Three students will still maintain a trimester system while Form One and Form Two students do the semester system.



The communiqué noted there will be no co-curricular activities as per the new system.
"Activities such as debates, drama, choir, cadet, athletics, football etc provide opportunities to develop the total personality of students.

"Values such as competitiveness, fair play, team spirit etc are developed through co-curricular activities."



NAGRAT called for broader consultations not only with teacher unions but religious bodies, representatives of political parties and community leaders "to discuss the way forward in addressing issues with regard to the Free SHS Policy and Double Track Programme".