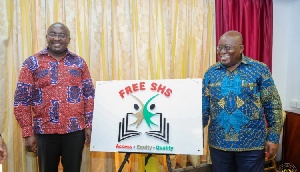 Member of Parliament for Adaklu Constituency Kwame Governs Agbodza has called on Ghanaians to pray for the government in order for the Free SHS programme not to fail.
"Every Ghanaians should pray that the programme will not fail". The National Democratic Congress (NDC) MP opined that "the issue of education is at the heart of everyone and most parents would want to commit a significant budget to that but there is injustice in the free SHS".

"We should rather create a system where the vulnerable can be supported but what is this system that those who can afford to pay are not paying.

If you can find the money to fund it, fine, but as we can see, even before the end of first year, teachers are suffering, no textbooks, no food.

If it fails, we have thrown money away and we shouldn't get to the situation where we will see the free SHS fail". He was speaking on TV3's New Day after a proposal by the Member of Parliament for Effutu Constituency in the Central Region, Alexander Kwamena Afenyo-Markin, that a tax to fund education should be set up.

Mr Afenyo-Markin said tax would help the current government and successive ones to sustain the Free Senior High School policy in the country and also improve the educational standard in the country.

The New Patriotic Party (NPP) MP was commenting on the revelations by the National President of the Conference of Heads of Assisted Secondary Schools (CHASS), Mrs. Cecilia Kwakye Cofie, that, as a matter of urgency, government should release subsidies, which have been in arrears for three terms to the schools.
The CHASS President said the schools risk being closed down if the absorbed fees by the government do not reach them "immediately", adding, "the arrears and subsidies [are] release of payment of scholarship to SHS and the failure of the government to supply food to the schools". But the Effutu legislator said: "Even introducing a tax for the purpose of funding education or if we get to a point where we have to have a tax to fund education, we have to do it".

Mr. Afenyo-Markin added: "These are real issues and it is for the government to act on them because when the NHIS was established, it wasn't for those who can afford but for all…similarly is the free SHS. So, if there is a fund for a voluntary contribution that is good".

The Founder of the Youth Enterprise Development Network, Kasise Ricky Peprah, who was also on the programme, called on the government to attach a level of urgency to the educational issues in the country. "Something has to be done about it.

It has to be taken under the certificate of emergency and it should be heeded on time," he suggested. Mr. Peprah noted that "something urgently needs to be done so that it will not derail the new programme of the NPP government".