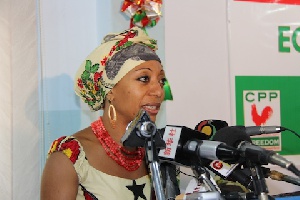 Samia Yaba Nkrumah, daughter of Ghana's first President, Osagyefo Dr. Kwame Nkrumah, feels her failure to secure a second term mandate to lead the people of Jomoro was through the machinations of the ruling National Democratic Congress (NDC).
She believes the seat she once occupied was whisked away from her hands by bloating the voters register.

Samia, who sought for re-election on the ticket of the Convention Peoples Party (CPP), was beaten by the NDC's Francis K. Anaman with a margin of 3,541 votes.

She polled 18,110 votes, representing 35.31% of the total valid votes cast while Mr. Anaman polled 21,651 votes, representing 42.22%.

The NPP's Joseph Ewoniah polled 9,630 while Margaret Blay Kenyah of the PPP polled 1,894 votes.

But Samia believes her loss was not genuine. She told Accra-based Neat FM in an interview on Thursday that the Jomoro seat was stolen from her.
"Go to Jomoro and see how we touched on every single community. Everybody knows that we didn't lose that seat. It was stolen from us by the immoral act of bloating the voters register and busing in people from other countries to vote."

"Between 2004 and 2008, the valid votes cast in the Jomoro Constituency increased by about 500 votes. That is 500 votes between 2004 and 2008. Now, between 2008 and 2012, the valid votes cast increased by over 10,000 votes. So, how come the increase in the first four years are about 500 but in the next four they are over 10,000. This is totally unacceptable," she fumed.

Her comments was a response to criticism from her younger brother Sekou Nkrumah that she was not ripe to lead the CPP because she couldn't even deliver when voted into office to represent the people of Jomoro in Parliament.

Commenting further, she said being a victim of a bloated register, she and the CPP feels the need to petition the EC to consider having a new electoral album.

"Last week, we called on the EC to please investigate the unexplained bloated register. The bloated register does not make sense. It is illogical."