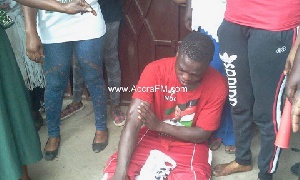 Mon, 21 Nov 2016 Source: GhanaWeb
The National Democratic Congress (NDC) in the Eastern Region has condemned an attack on its supporters by the New Patriotic Party (NPP).
A statement issued by the Eastern Regional Secretariat of the National Democratic Congress says the party is dissapointed in the "unprovoked" attack from the camp of the opposition NPP.

It was earlier reported that some NDC and NPP supporters clashed at the Asokore Community Centre while members of the former were returning from a health walk Sunday morning.

Below is the full statement

NATIONAL DEMOCRATIC CONGRESS

EASTERN REGION SECRETARIAT

NDC CONDEMNS UNPROVOKED ATTACK ON MEMBERS BY NPP THUGS
The Eastern Regional Secretariat of the National Democratic Congress has learnt with great dissapointment, an unprovoked attack on our party members in the New Juaben North Constituency this morning by NPP thugs led by the incumbent NPP MP, Nana Adjei Boateng.

This attack occured at the Asokore Community Centre while our members, led by our Regional Youth Organizer and candidate for the constituency, Haruna Apaw Wiredu were returning from Oyoko on a usual Health Walk.

Upon reaching the community centre, these NPP hooligans under the express authority of the MP had blocked the main road, preventing our members who had joined the teeming crowd from Asokore Township, Asokore Kuma, Pipeline and Effiduase from crossing over to their various homes.

Before our people could say anything, these NPP hooligans with the MP visibly involved, started pelting stones at our members.

In the process, several of our members including the Constituency Secretary, Ali Abubakar Akyena suffered serious injuries.

A Metro Mass Transit bus that conveyed our members who reside at the extreme ends of the Constituency to the starting point was also vandalised.
This attack is obviously a well rehearsed one considering the fact that the Police had to prevent a similar attack on our members by thugs from the NPP at the Oyoko roundabout earlier this morning. The NPP continue to deface posters and destroy billboards of their political opponents.

The NPP is very much aware of the humiliating defeats that awaits them as we inch closer to the December 7 General elections hence has adopted this childish and disgraceful tactic just to intimidate our people and scare them from coming out in their numbers to vote for President John Dramani Mahama and our Parliamentary Candidates on election day.

We recall similar acts at Suhum, Nankese, Akorabo, Asuogyaman just to mention but a few.

Agenda 50-50 is solidly on course and that has obviously got our lazy friends in the NPP confused and disorganised.

But even in their confusion, they should bear in mind that they have no monopoly over such acts.

We have had to watch on up to this time, considering the peaceful and unifying nature of our President and Leader- John Mahama and also our trust in the competence of our state institutions.
However, we will be forced to retaliate in double measure if they don't put a stop to this act.

We have always challenged them on issues and called for comparison of achievements of the two parties.

Is violence their only record?

We call on our security agencies to urgently investigate these series of attacks and appropriately apply sanction to the perpetrators in other to boost the confidence of Constituents in the region.

Eastern Region is a very peaceful place, hence this shameful act being executed by the NPP just to cause destabilisation should be of great concern to all and sundry.

Signed;
KEVOR, Mark-Oliver

Eastern Regional Secretary, NDC

Issued on Sunday November 20, 2016
Source: GhanaWeb