General News Sat, 17 Nov 2018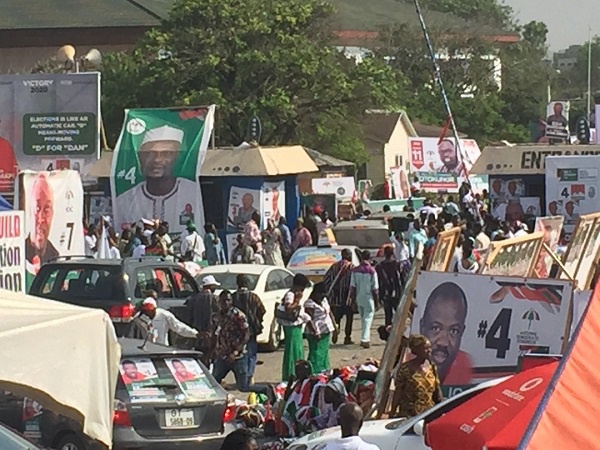 All is set at the Accra International Trade Fair Centre as large crowds composed mainly of party enthusiasts, delegates and grassroot members have converged to decide on the fate of 65 aspirants vying for the positions of National Executives. About 15,000 people, made up of 9,350 delegates and 5,650 observers, are expected at today's congress to decide the fate of the 65 candidates vying for various positions.
Typical of a voting arena, party paraphernalia, banners and flyers are all over. 'Die hard' supporters are also seen clad in party colors, some with some extras to show their fervor.

Quite unexpectedly though, there is the presence of vigilante groups contrary to what Chairman of the Congress Planning Committee , Alex Sebgefia suggested prior to the elections. In fact, a 'new' group, 'the lions' seems to have made appearance at the poll grounds.

So far, the race for the National Chairman and the General Secretary seem to be the one generating most interest among the citizenry.

Perhaps the most revered and favourite politician of Ghanaians, Johnson Asiedu Nketia is for the first time in a long time facing stiff opposition from his second in command, Koku Anyidoho who has vowed to unseat his boss as the General Secretary in this keen contest.

For the position of the National Chairman, five stalwarts of the party are vying. They are a former Trade and Industry Minister and former NDC MP for Keta, Mr Dan Abodakpi; the party's former Director of Elections, Mr Samuel Ofosu Ampofo; a former Attorney General and current Vice-Chairperson, Mrs Betty Mould-Iddrisu; a businessman, Mr Daniel Anang, and Alhaji Huudu Yahaya.
The incumbent, Kofi Portuphy however decided to sit this one out by not seeking re-election.

Here are a few interesting photos captured by Ghanaweb's camera from the grounds