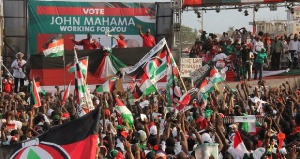 Mon, 14 Nov 2016 Source: GNA
Mr Anthony Nukpenu, Greater Accra Regional Organiser of the National Democratic Congress (NDC) on Sunday said his party is peace loving and would therefore not do anything that would jeopardise national unity.
"We will however no longer tolerate any organised attacks from the members of the New Patriotic Party (NPP) on our members in the Region."

Mr Nukpenu, who was speaking in a news conference in Accra alleged that the NPP organised attacks on members who were taking part in a health walk around the residence of Nana Addo Dankwa Akufo Addo, Presidential candidate of the Party.

He claimed that similar attacks had been visited on the NDC supporters and member in the Weija, Gbawe, Dome-Kwabenya and Odododiodo constituencies.

He gave the Inspector General of Police and the National Security network 24 hours ultimatum to arrest NPP supporters who allegedly wielded and shot guns during the health walk.

The Regional Organiser described the situation as "unwarranted attacks on our peace loving members."

Nii Afotey Agbo, Regional Minister called on Ghanaians to resist any attempts that could plunge the country into chaos adding:" We will not encourage any misbehavior and we call on our opponents to do same."
He said as a Party that believed in democracy and the rule of law, they had given police protection to all Presidential candidates and therefore expect them to act according to the dictates of the law.

"Why attacks? Anybody can be in opposition and that is why we all need to show signs of good behaviour everywhere," he added.

Mr Joseph Ade Coker, Regional Chairman of the NDC tasked the police to arrest the youth that allegedly wielded guns as that was unlawful.

"I am calling for their arrest because I know they are not licensed to possess guns anywhere in the country."

He said they had photo evidence to show to everybody on alleged violence of NPP members.
Source: GNA