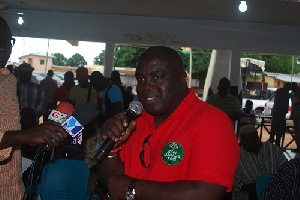 The governing National Democratic Congress (NDC) will keep to issues that affect Ghanaians in the last days of campaigning towards the December 7 polls, Chief of Staff Julius Debrah has revealed.
"We have resolved that our campaigning is going to be devoid of insults, unnecessary attacks, and unwarranted insults. It does not really add anything to the table," he said

Mr Debrah, who addressed the clergy in Accra on Wednesday, November 23, stated that the party would place emphasis "on issues because Ghanaians want to know how they will get a place to sleep, how they will get some work to do, and how they will have some money in their pockets", adding: "So we will like to, as much as possible, spend our time in explaining the policies in our manifesto that we believe will result in those opportunities for the citizenry."
Ghana heads to the polls to elect a president and legislators who will manage the affairs of the country for the next four years.

In view of that, Mr Debrah has assured that government is committed to ensuring that the process is free, fair and devoid of any violence to maintain the stability and peace of the nation.