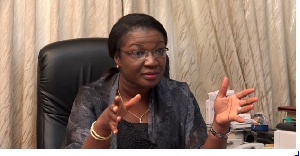 President John Mahama's 2016 campaign spokesperson, Mrs. Joyce Bawa-Mogtari has denied allegations that the NDC is luring electorates with money to amass votes for the President in the upcoming elections.
The New Patriotic Party [NPP] accused the ruling NDC of vote buying - after launching their campaign in Cape Coast, President Mahama embarked on a tour in the Western region where he distributed outboard motors to some fishermen.

Also, at a durbar in Sekondi, Mr. Mahama distributed outboard motors to some fishermen in the community to help improve their working conditions.

These and other freebies by the NDC to the electorates has compelled the NPP to accuse them of vote buying.

But Joyce Bawa Mogtari, said the outboard motors are part of a government intervention and not intended to buy votes.
Speaking on NEAT FM's morning show 'Ghana Montie' - Bawa Mogtari said there is no truth in the accusation labelled against her party.

"All that they are saying is not true. We don't give money to the electorates. But when the President is invited to some programs, he donates something small for them. That is not vote buying. How can we give money to all these people? It's impossible," he said.

Bawa Mogtari, however, noted that the President's gargantuan developmental projects across the country would win him the upcoming presidential polls – "not vote buying".