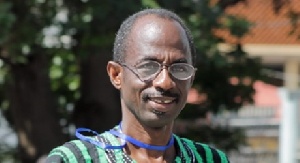 Chief Scribe of the ruling National Democratic Congress (NDC) Mr. Johnson Asiedu Nketia has touted the party as the only detribalize party in Ghana.
He indicates that the NDC does not believe in segregation and also goes about its operations devoid of tribalism unlike its opponents, the New Patriotic Party (NPP).

"We in NDC don't believe in segregation of powers based on tribal lines. If you see anyone who is interested and believes in segregation such a person is an NPP", he said.

Mr Asiedu Nketia explained that the NDC is destabilize because it has given an opportunity to Voltarians led by Former President Jerry John Rawlings, created the same opportunity for the Akans headed by the late Professor John Evans Atta Mills and now has same for Northerners led by the current president John Dramani Mahama.

According to him on Wa-based W935FM, the party is well structured that it has avenues for all category of persons irrespective of their race and physical challenges.
This he is said cannot be said about the opposition NPP that has over the period proven to be a one-sided party and pursuing the interest of a section yet want Ghanaians to mandate them to govern the country.unity-walk-banner2

"They engage in tribal politics and instead of keeping it to themselves, they rather proclaim it. We were in this country when the NPP declared that President Mahama should not be made president because he comes from a resource poor area"

Go down there and you will see that NDC has the best policies for all Ghanaians not just northerners. So if they generate the president from their resource rich areas are they the people you will depend on to come and develop your areas", he asked

According to him, Paul Awentami Afoko will not have been suspended as Chairman of the NPP for demanding accountability in the party if he was a southerner .