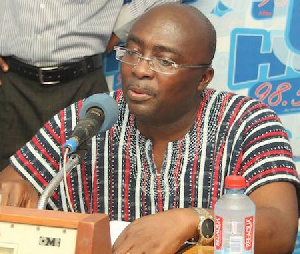 General Secretary of the ruling National Democratic Congress (NDC) Johnson Asiedu Nketia has disclosed that the Running mate of the opposition New Patriotic Party (NPP), Dr. Mahamudu Bawumia could possibly not have been very successful in life as he is now, if it were not for the support he got from the NDC party.
According to him, the ruling party facilitated the education of the renowned Economist and Banker by granting him scholarship to study abroad.

Barely three months to the crucial general elections on December 7 which promises to be keenly contested among the two leading political parties (NDC & NPP), Dr Bawumia seems to intensify his attack on the performance of the Mahama-led administration each passing day.

He has described President John Mahama and his ministers as incompetent, accusing them of mismanaging the resources of the country and failing to ensure development that is commensurate with the amount of money that has come into state coffers.

But Hon. Johnson Asiedu Nketia has said Dr Bwumia cannot continue to attack NDC when the party made key contribution to his success in his life.
He noted that Dr Bawumia benefited immensely from the ruling party at a time that his late father, Alhaji Mumuni Bawumia served as the Chairman of the Council of State.

"Bawumia's father joined virtually every political party that existed after independence, from the Northern Peoples Party, then when the minority parties came together to form the United Party (UP), he joined that party as well. He later joined the CPP and he became the District Commissioner. He further joined Dr Limann's party where he was made the Minister for Cocoa Affairs. Until his death, he was the Chairman of the Council of State, under ex President J.J Rawlings and that is when he got scholarship for his son Mahamudu Bawumia to study abroad."

He added: "Upon Bawumia's return from abroad, Dr Kwabena Duffour was the Governor of the Bank of Ghana, and because of his father's position he got a job at the Bank of Ghana where he was gradually promoted to become the deputy Governor of the Bank of Ghana. He is a true NDC person whom the NPP has taken as their running mate," Asiedu Nketia noted.